The word Ranxo makes sense in rural Catalonia where a web of gravel roads has woven agricultural life for hundreds of years. Infinite tracks that connect the most remote points of La Noguera and La Segarra for the first Spanish UCI Gravel World Series event.
Hutchinson Ranxo Gravel is organized by Klassmark, a company with 13 years of experience and more than 110 races organized. Klassmark has been organizing gravel races for 6 years and it is the first company to hold sustainable events.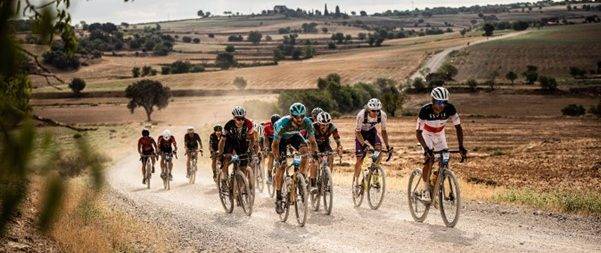 The Hutchinson Ranxo Gravel event has three distances from which the large 166km distance counts as official qualifier distance for the all age group. The shorter and medium distances are for fun riders who are to experience their first steps in gravel, but don't intend to qualify.
All distances start from the "Zona Esportiva del Parc de la Roca del Call" in Ponts.  The long 166km distance has an undulating profile. 
En 2022, Carlos Verona (Movistar) était le vainqueur de la course.
official qualifier distance for men 60+ and women 50+
Rural Catalonia can be quite challenging with undulating roads, but the majority of these roads is never very steep but rather rolling hills for riders with power varying in between a lowest point of 290m above sea level to a highest point at 608m above sea level. Total elevation for the course is 1900m

Ponts is located in the Province of Lleida in the Catalonia region just south of the higher mountains of the Pyrenees.  The town of Lleida is the biggest town in the area and is located 66km south west of the village. Andorra and the French border are located 80 north and the metropolitan city of Barcelona is 125km south east.
Ponts is located at an elevation of 360m above sea level and has a population of 2800 inhabitants.  Its unique and remoted location makes it the perfect spot for outdoor sports like hiking, mountainbiking and other outdoor activities on the Segre river near its confluence with the Llobregos river.
The Romanesque church from the 11th century is one of the popular places to visit, next to the rialb reservoir, the biggest dam in Catalonia.  Also the start and finish location are a popular outdoor multi sports complex for canoeing and kayaking.